About Us
Corporate philosophy
Always provide good quality, best price, and satisfied service with which the customer can be pleased.
Company information
Sanfat Electric Manufacturing Company Limited (Hong Kong Office)
[Business Lines] Export home electrical appliance
Address:
Suite 1109. 11/F/ Tower 1. China Hong Kong City,
33 Canton Road, Tsim Sha Tsui,
Kowloon, Hong Kong
TEL: (852) 2690-2976  FAX: (852) 2690-9393
Sanfat Electric Manufacturing (Dongguan) Co.,Ltd. (A Factory in DongGuan, China)
[Business Lines] Manufacturing and sales of home electric appliance
Address:
38 Shapu Ind. Zone,
Qiaolong Village, Tangxia Town,
Dongguan City, 523710 China
TEL: 86(769)8625-2838 FAX: 86(769)8625-2920
Company History
As a parent company, Sanyei Corporation (JASDAQ: 8119) establish a factory of a small home electric appliance in Hong Kong in 1978.
Establish a factory in China in 1987.
Move the factory to TangXia of DongGuan city in China in 2004.
Corporate registration for the factory in China in 2011.
Qualification certification
ISO9001:2011 (Quality)
ISO14001:2011 (Environment)
Produce products which authorized by Pharmaceutical Affairs Act etc. (Japan, USA, Europe)

Map
Sanfat Electric Manufacturing Company Limited
(Hong Kong Office)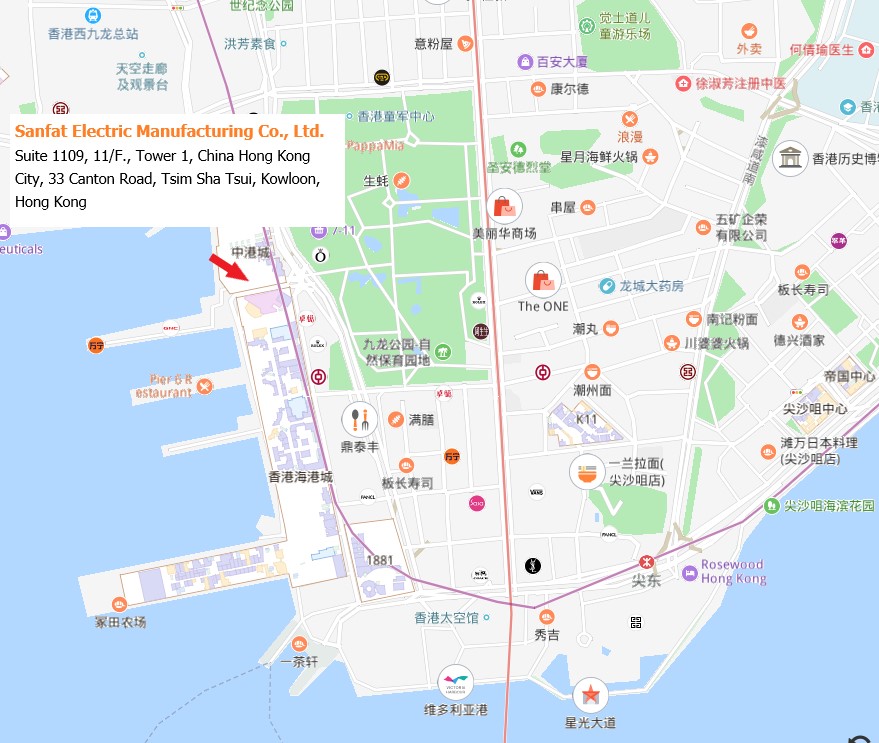 Sanfat Electric Manufacturing (Dongguan) Co.,Ltd.
(A Factory in DongGuan, China)

Organization Chart